The DIS Unplugged received an invitation from Universal Orlando Resort to the grand opening of Halloween Horror Nights XX: Twenty Years of Fear.  Universal must know how much our audience enjoys learning about the behind-the-scenes aspects of theme park attractions and shows, because they sent along a video with an in-depth look at the event.  You can see all the details they shared in the video below.  Halloween Horror Nights XX opens to the public on Friday, September 24th.  Continue after the break for the special gift and invitation sent to the DIS from Universal.
The box contained a letter from Heather Summers (seen in the video above) wanting to make sure we enjoyed our special behind-the-scenes look at Halloween Horror Nights.  My daughter was so excited about the wand-sized package from Universal Orlando that I just had to let her open it.  You can watch her reaction in the video below.
Here's an up close look at the contents including Heather Summers' letter, an image of Fear, and a branding iron.  Oh what family fun we had that night!  Good times…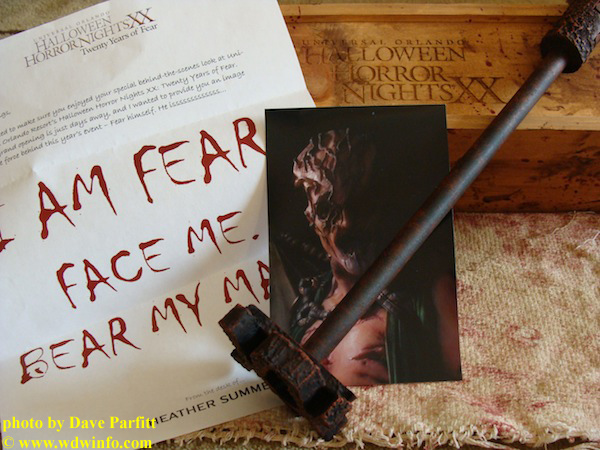 So will you be going to face Fear at Universal's Halloween Horror Nights this year?  Log on with your DISboards username and password to leave a comment below.
Category: Universal / Sea World, Universal Orlando